During a trip to Lugang, besides visiting the traditional handmade noodle and incense places, we also spent time in the old street and discovered unique shops and resting places. Yi Gu Zhai Tea House (怡古齋人文茶館) is one of the unique places filled with a nostalgia atmosphere and offers traditional and new tasting Flour Mush Tea (mian cha, 麵茶).
On the wall in the Yi Gu Zhai displayed antique poster collection from the owner's father, Mr. Shi, Jiaoyong who is also a famous Dough-Figurines master in Taiwan. Gorgeous looking interior caught my attention once we sat down. The room is in a traditional long shape style of Lugang. Another well-designed cozy resting area is behind the backdoor.
We came here not only for the famous flour mush tea, but also for the local folk art of "Dough-Figurines". Unfortunately, the activity was not available at that time. Dough-Figurines are mainly made with flour and glutinous rice. With the changing society, making dough-figure is no longer enough to support their living. In order to keep the traditional skill and support living, Yi Gu Zhai Tea House was opened offering the old and new tastes of flour mush tea and DIY Dough-Figurines activity.
The mini Tatung rice cooker is one of the display items in the room. (Tatung rice cooker is one of my nostalgia items and accompanied me through my entire childhood)
They not only offer the traditional paste looking flour mush tea, but also a new way of having flour mush tea which was developed in 2003 and called "Flour Mush Tea Crushed Ice"! It tasted so good, especially during the humid hot weather in the month of September.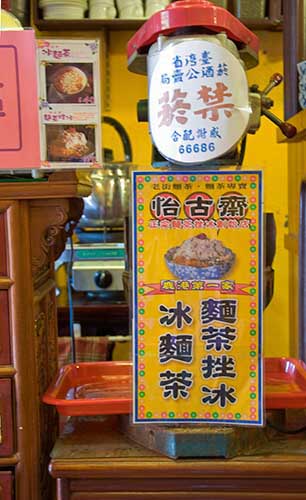 It was mixed with flour mush tea powder, grass jelly, sweet potato, and green beans around the ice with a bright red cherry on top. Don't forget to mix the powder with the ice before eating. Milk was also added to bring up the flavor! The one below costs NT 60 ($2).
They also make their own Almond Powder for the tea!
The take-out ice and hot flour mush tea with a special made kettle is also available right at the entrance door! I could not help to take a photo of it.
Many flour mush tea shops are available on the old street; however, the Dough-Figurines DIY activity and "Flour Mush Tea Crushed Ice" has made "Yi Gu Zhai" very special and attractive to tourists!
Address: No.6, Putou St., Lugang Township, Changhua County
Telephone: (04)7770212
Read More