As a place showing me the world, the fascinating interior of the famous mansions or the palaces as well as taking me into the fairy tale stories, the Miniature Museum in Taiwan can do as good as the Small World in Disneyland. In this place, I was a giant and wished I could shrink myself to go in and play in each dollhouse. Would it be wonderful if the machine from the movie of "Honey I shrunk the kids" is available now?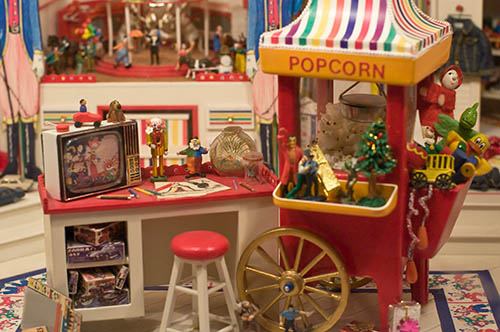 Although I love the miniature collections, I was not familiar with the history of it. After I have done some research, it is interesting to know that most of the early dollhouses consist of only a living room and kitchen for the purpose to teach the young girl to do the housework. I think it even applies now, as we can see lots of Barbie's living rooms and dollhouses are available as well. The original place of the miniature was in Germany about 400 years ago.
What a delicate and gorgeous artwork!
The Buckingham Palace in London is my favorite piece in the museum. I stood there for a while and had a close look of the castle, marching band, and soldiers.
As I was watching them, I felt like I was part of the band and marching with them. They are just so unique and lovely.
These soldiers are in the 1/30 of a real person's height.
The museum exhibits more than 150 miniatures dollhouses and room boxes. All the models are in the scale of 12:1 (majority), 24:1, 48:1 and even 120:1. How wonderful it is to see the world artists' delicate work in one place! The artists from US, Canada, England, Scotland, and other European countries create them.
Lin Wen-Ren and his wife found the museum in 1997. The museum displays their world masterpieces collected from their world trips. This miniature museum of Taiwan is ranked second in the world for the amount of the collections.
There are some works from the Japanese artists as well as the traditional Japanese housing, streets, and living. The beautiful cheery blossom scene really brought me into Japan.
We were a bit disappointed that we did not see the traditional Taiwanese models that present the local life. Many local creative great artists could have put lots of miniature pieces together.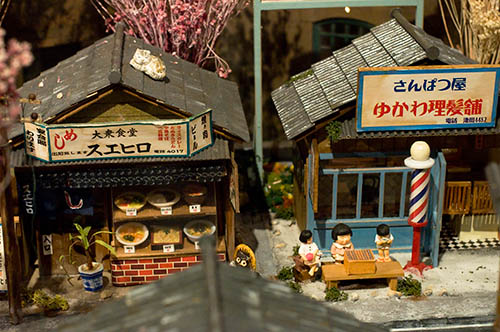 Another area that we spent a long time in it is the gift shop in the museum. I did not take any photos, since we were busy in checking out all these ready-made miniature DIY kits. Furniture, kitchen sets, food sets…kept me very busy!
What a great and small fun place to spend a couple hours in Taipei!
Miniatures Museum of Taiwan website
Read More