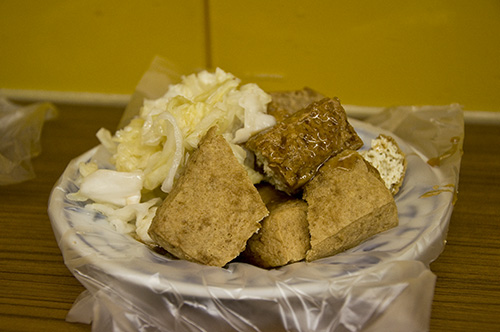 Do you like Stinky Tofu? I like it so much! People either love or hate it because of the strong smell and flavor. However, we all know that the more it smells, the better it tastes for the ones who enjoy.
Stinky Tofu is a popular dish in Taiwan, as well as in China and South Asia. It is so popular in Taiwan and it often gets picked up by international travel or cooking shows. Stinky Tofu is usually sold by the street vendors in the night market; however, many specialty stinky tofu places can also be found all over Taiwan. Walking on the streets; you would have no problem finding these vendors from a block away by its smell!
Have you ever wondered how stinky tofu is made? It is made by marinating fresh tofu in brine produce by fermented ingredients, such as, dried shrimp, bamboo shoots, or Chinese herbs. The deep fried takes place after the marinating. It may take 2-3 deep frying processes. The first 10 minutes is the deep fry to make the marinated tofu well cooked. Before serving, a 30 second deep fry would make it very crispy outside and soft inside after they are sliced. Some places are offering the 3rd deep fry after they are sliced to give an extra crispy outside.
The spicy paste, chili oil and other secret sauces are added on the top. The marinated sweet and sour cabbage is also added on the plate. The steam stinky tofu dish is prepared often in restaurants and is a popular dish as well. I also love that dish!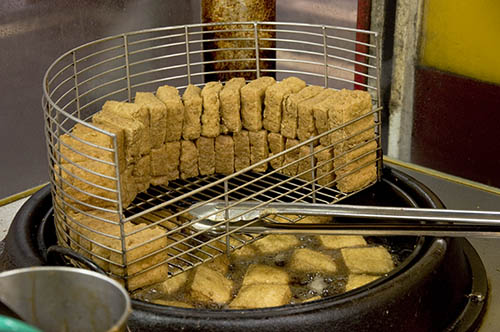 Because of the extensive deep frying and prolonged marinating process, Stinky Tofu may be as an unhealthy snack. However, as long as you are not going to eat it often, there should have no health concern and this applies to all deep fried food. Stinky Tofu is something I won't miss when I visit Taiwan!
Here is a short video clip showing the deep fried stinky Tofu in "A-Quan Stinky Tofu" near Taipei Train Station. The tasty sweet and sour cabbage is inside the white container! Give a try if you have not had the Stinky Tofu and let us know what you think of it…
Read More