「海洋牧場」是箱網養殖結合觀光的新興產業,業者用浮筒在海上建構平台,供遊客釣魚、享用海鮮等活動,一個可吃可玩的海上樂園。
"Ocean Ranch" is a new business which combines net cultivation and tourism. The owner uses floaters to build a platform on the ocean for tourists to fish and enjoy fresh seafood. It is a playful ocean paradise.
在澎湖的「南海遊客中心」裡有許多家不同業者所經營的海洋牧場可供選擇,我們前往的是「海上皇宫」。買了票,再到碼頭搭接駁船前往海洋牧場。
There are many Ocean Ranches that can be selected in the "Nanhai Visitor Center" in Penghu. We selected "Sea Palace". We bought the tickets and waited for the ferry to pick us up to go to Ocean Ranch.
一上岸,迎接我們的是滿桌的新鮮牡蠣。海洋牧場裡的活動項目之一,就是有無限量供應的炭烤鮮蚵,讓遊客儘量享用。
We were welcomed by a whole table of fresh oysters once we docked. One of the activities in Ocean Ranch was to enjoy the unlimited grilled oysters.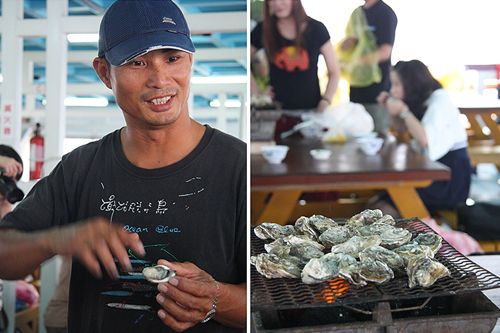 牡蠣遇熱會爆噴汁液,所以要將牡蠣的開口朝內,若烤太久肉質會乾掉,且殼灰掉落炭火時還會發出爆聲響。到底要怎麼判斷牡蠣熟了沒?聽到微爆聲及牡蠣邊緣開始有泡沫時,就可以食用了。
Oyster's juice would burst once it is heated; therefore, it is better to make the oyster's opening inward. The oyster would become dry if it is grilled too long and the falling ashes make an exploding sound once they touch the charcoal. How do we know if the oysters are cooked? If you hear a mild exploding sound and the bubbles start coming out from the edge of the oysters, they are cooked.
聽完船上服務人員的解說後,就是自己動手的時刻了。現捕現烤的牡蠣,味道自然是鮮美無比。來此的遊客邊烤邊吃,吃的滿桌子堆滿蚵殼,且一盤烤完再一盤,好不過癮。
After the staff's demonstration, it is time to DIY. The grilled fresh catch oysters taste delicious. The table was filled with the oyster shells; visitors finished one dish after another. We had so much fun!
除了鮮蚵外,現場還有免費無限量的海鮮粥可品嚐。除此之外,想吃生魚片、鮮魚湯等海鮮大餐的人,也可以自行付費享用。
Beside the fresh oysters, there are unlimited seafood rice soups to taste. If you would like to eat sashimi, fresh fish soup, and seafood cuisine, additional cost will apply.
在浮台上四處走動,可以看到現場人員的工作情形。
Walk on the platform; we can see how they work.
吃飽喝足後,可以浮台去釣魚。浮台上有數個大小不一的養殖池,每個池子裡有不同的魚種,遊客可以自行選擇池子垂釣。
After the eating, we were ready for fishing. There are a several different sizes cultivation ponds with different kinds of fish. We got to choose the pond we liked.
不過,這裡釣魚不用勾子,直接綁上半截鯖魚作餌。
However, fishing here needs not use a hook. A half mackerel is tied to the pole as the bait for fishing.
既然來了,當然要嘗試一下。不過,我等了好久,只見魚兒在餌附近遊來遊去,卻怎樣也不肯咬上一口。
I had to try it since I was here. However, I waited for a while, but there were no fish caught. They were swimming around the bait.
但我釣不到,不代表其它人也釣不到,同行的友人就把性情兇猛的海鱺給釣上來了。還有朋友也差掉把花枝給釣上岸,只可惜花枝鬆了口逃走了。
註:釣到魚,不是代表可以把魚煮來吃,而是還要放回池子裡,這只是體驗活動而已。不過釣到魚的人,可以換得一張飲料卷。
I did not catch anything, but a friend in the group caught the cobia. Another friend almost caught a squid and it ran away unfortunately.
PS: The fish caught need to be returned to the pond. This is only an activity. However, you would get a coupon for a drink if you catch a fish.
實釣花枝可要小心不要被它的墨汁給噴到!工作人員在捕花枝時,又噴水又噴墨汁的,嚇得圍觀的人尖叫閃躲。仔細看,照片裡的花枝噴出了長長的黑色汁液!
Be careful with the squid juice! When the worker was catching a squid, it spurted black juice. We were screaming. If you look closely on this photo, the squid just spurted!
[超大的花枝]
A giant squid.
海洋牧場的活動大概是三小時,除了白天的活動外,晚上也有夜釣小管的行程可供選擇。我個人覺得,海洋牧場的體驗活動頗有意思的,很適合安排半日來此體驗一下.
It was a 3 hour activity. Besides the day activity, you can select the small squid fishing at night. Personally, I think this activity in the Ocean Ranch is good for a very fun half day.
Read More