長期因戰亂而不停伐木的結果,讓金門的山林日益減少。少了綠林的庇護,每當東北季風吹起,狂風暴塵便撲向村落,讓居民深受風害之苦。為了抵禦風擾,當地居民在各村落迎風口設立了的風獅爺,當作村落保護神,以阻擋漫天風沙與惡煞的侵襲。村民會配合年節、廟會活動,定期對風獅爺進行祀拜,風獅爺可以說是金門最特殊的民間信仰及鄉土景觀了。
Due to the pro-long civil wars and non-stop wood cutting, the number of trees in the mountains has declined. Without protection from the trees, the north east wind and dust would blow to the village directly. Residents were suffering the damages caused by the dusty wind. In order to block the strong wind, the local residents built the Wind Lion God statue at the wind entrance as the protection god to block the dusty sand invasion. Villagers perform the worship ceremony and temple activities every year. Wind Lion God is a very special local faith and legend.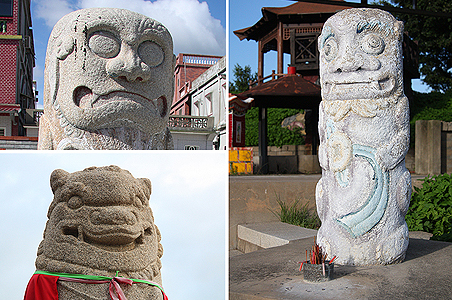 金門的風獅爺約有七十餘尊,每尊高矮不一、表情各異,有些威武兇猛、有些看起來卻相當的樸拙可愛。這些造型千變萬化的風獅爺,除了鎮風止煞的功用外,如今也成了金門必看的風景之一了。
There are about 70 Wind Lion God statues in Kinman. They are in different heights and with facial expressions. Some looks fierce, some quite simple, innocent and cute. All of them were built with the belief to block the dusty wind, and also have become must- see local scenery in Kinman.
據說,風獅爺很愛吃糖,因此村民經常會拿著糖果去祭拜,我們到訪時,果真看到一支棒棒糖祭品呢!
It was said that Wind Lion God loved to eat candy. Villagers often bring candies for during worshipping. When we were there, we did see a lollipop there.
風獅爺大多是用花崗石刻的,臉部五官特色為大圓眼、寬鼻及大嘴。口大表示張大嘴能吃風,才能幫金門居民抵擋強風之苦。除了五官表情外,風獅爺的高矮、姿勢、佩戴的符器,甚至性別也都不一樣。像這尊身上有葫蘆的風獅爺,就是公的風獅爺,想求子嗣的人,可以用手摸摸葫蘆來求子哦!
The Wind Lion God statues were mostly made of granite. They have big round eyes, wide noses and big mouths. The big mouth would eat the wind to help the villagers to block the strong wind. Besides the facial expression, the height, weapons it carries and gender are all different for each statue. This one with a gourd bottle is a male Wind Lion. If you would like to have a boy, you can touch the gourd bottle to bring you luck!
風獅爺的姿勢有直立姿也有蹲踞姿,還有嵌在牆壁的。這尊位於民宅壁上的風獅爺,除了鎮風外,還有防止路沖的功能。
The positions of the Wind Lion God statues include standing and squatting. Some of them are embedded in the wall. This Wind Lion embedded in the wall can block the wind and also prevent bad luck.
風獅爺是金門獨有的民間信仰,在台灣其他各地都看不到這樣的風俗。來訪的遊客總喜歡按圖索驥的,找尋一尊尊遍佈金門的風獅爺。別擔心找不著,友善熱情的當地村民會很樂意引指方向的。
Wind Lion god is a locally unique faith in Kinman, you are not able to see this custom in other places in Taiwan. The tourists visiting Kinman would like to follow the map to look for each statue. Don't worry if you can't find them, the friendly villagers will be happy to guide you.
[相關網站]Related Link
金門國家公園 Kinman National Park
http://www.kmnp.gov.tw/en/index.php?option=com_content&view=frontpage&Itemid=27
Read More