Time flies. I feel like I just celebrated the year of Tiger, then the year of Rabbit is already around the corner arriving this Thursday, February 3rd. As the day approaches, all red themes with rabbit figures can be seen everywhere on the streets. Find out how the traditional Lunar New Year is celebrated in Taiwan and what those traditional customs are by checking our last year post "Gong Xi Fa Cai" !
Happy New Year and Gong Xi Fa Cai to all of you! Receive lots of " Red Envelopes" !
If you would like to escape for a one-day trip during the holiday, Neiwan in Hsinchu could be an excellent destination. Neiwan can be reached by trains or by car. It is a great place for those who do not have transportations. The Neiwan Small Train would take you directly to Neiwan Station. From there, many interesting spots can be explored.
Neiwan Train Station was built around 1950 for the timber and coal delivery. It has kept the original look with a very simple and nostalgic feeling. A very small and lovely train station has attracted many filmmakers. Sitting on this wooden bench, doesn't it take you back to the good old time?
Crossing the railroad, a small Neiwan Police Station can be seen on top of the railway tracks. This wood structure house was built during the Japanese Colonial Era. Impressively, the police station is still operating and providing services to the local residents.
Comic illustration has always been my interest. Liu Hsing-Chin Comics Museum was on my list to visit in Neiwan; however, the museum was under renovation at the time we visited. How disappointed! Liu Hsing-Chin is a well-known Cartoonist in Taiwan. Neiwan is his birthplace. His comic books have become one of the important childhood memories for many Taiwanese readers.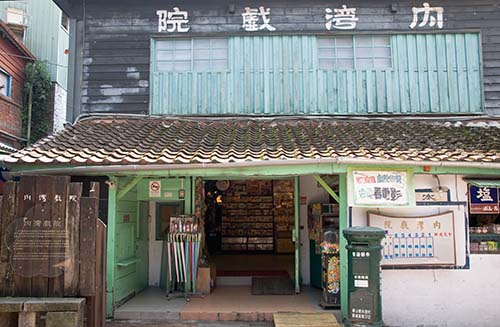 Another highlight of the trip was visiting the half century old Neiwan Theater. After strolling through the town, a lunch in an old time theater setting with traditional Hakka dishes was quite pleasant and relaxing.
Neiwan Theater was built in 1950 as the only entertainment center in town for the miners and coal workers at that time. From the size of the theater, I can imagine how booming the business was! Now, the theater has been renovated with the original look in providing the Hakka dishes and watching the early film of Taiwan's.
Inside the theater, a traditional Taiwanese grocery store can be seen. Walls are covered with early film posters and shelves are displayed with all kinds of early film equipment. I really felt like I was in the film studio and no wonder there were many films shot here.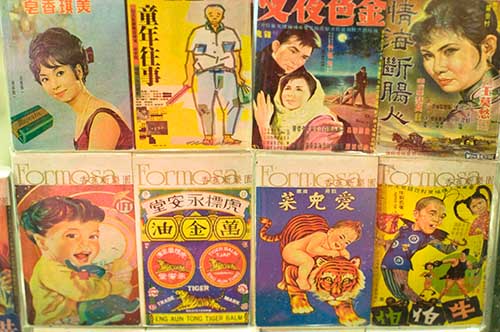 Wandering on the Neiwan Old Street, I found a variety of Hakka snacks and delicacies. Everything looked so tempting; however, we did not stay long on the Old Street, since the crowds were coming in. Nevertheless, Neiwan is such a lovely small town to explore for a day!
Neiwan Theater Address: No.227, Zhongzheng Rd., Hengshan Township, Hsinchu County
Read More