一直都很喜歡手工木湯匙,那一刀刀不刻意修整的刻痕,充滿著樸實拙趣的質感。如果,能擁有一支木湯匙,而且還是自己手工製作,那該有多棒!在台北就有這麼一間木工房,讓人可以自己動手做一支獨一無二的專屬湯匙。
I always like a handmade wooden spoon. Each carving on the wood is filled with simple and interesting texture. How wonderful if I can make and own a wooded spoon! A woodwork house in Taipei let me to DIY my own unique spoon.
推開娃娃活的大門,無論是展示架、桌面、地板,甚至天花板上,全都擺滿了各式各樣的木頭玩具,要說這裡是個木頭樂園,一點也不為過。
搖動圓盤時,黑面琵鷺就會隨著圓盤底下的木槌拉扯而晃動,於是黑面琵鷺就會不時低頭覓食。而下拉右方照片裡那兩隻可愛小熊的底坐時,小熊就會傾斜歪倒,出現逗趣的姿態。
Once we entered the door of Wowoho, the room is filled with all kinds of wood toys on the display area, tables, floors and even hanging on the ceiling. No wonder this place is a wood paradise.
By shaking the wooden plate, black-faced spoonbill swings and heads down to find food. If you pull the bottom plate of the bear, the bear could tilt and make a funny gesture.
「讓人愛不釋手的果實陀螺」
Can't move my eyes away from this lovely gyroscope.
除了玩具外,娃娃活也有很多生活用品,例如,這可愛的衣架。我在想,如果家裡有這麼可愛的衣架,小朋友應該就會很樂意幫忙曬衣服吧!
Besides the toys, there are many household items in Wowoho, such as the lovely hanger. I think the kids would love to help hang their clothes if they own these cute hangers.
開始上課了!老師先向大家解釋適合做湯匙的木材,及製作木湯匙的基本步驟與要素,然後再讓同學挑選自己喜歡的一塊柚木。先仔細端詳木材有沒有裂痕,再研究紋路走向,接著構思自己想要的感覺,然後就是畫上湯匙形狀。接下來,就是把多餘的部份劈除。
The workshop starts now! The instructor explained to us which wood is good for making the spoon and the making process. We then picked the teak to make the spoon. First we had to see if there were any cracks on the wood and then, based on the texture of the wood plan and design the way we want. We draw a shape of the spoon and then we had to chop the extra wood off.
固定好木材後,就是要開始把湯匙的舀面給挖出來。原以為這個部份很難,後來才發現這算是簡單又不費力的一個步驟。一手持鑿刀,一手持木槌,然後慢慢去把要的形狀給修出來就行了。
After it is fixed, and then we had to scoop the spoon shallow bowl out. I thought it would be difficult to do, but it was quite simple. Making the shape with a chisel and a wooden mallet.
「這是我挖好的舀面深度與弧度」
This is the depth and curvature of the spoon shallow bowl that I made.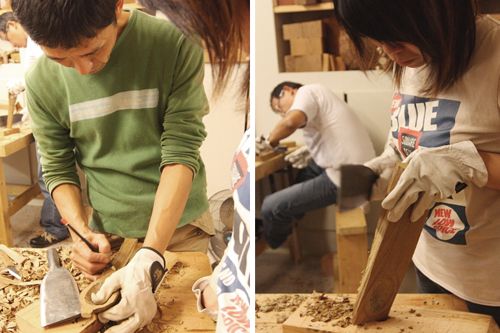 接下來就是大家叫苦連天的「砍」步驟。用柴刀一刀一刀將多餘的部份給砍除,聽起來好像很簡單,但實際控制起來並不容易,最要命的是,柴刀的重量可真不是普通的輕呀!砍沒兩下,我的手就開始發酸,教室哀嚎聲四起,大家只得砍一下,休息一下來緩衝。
Here came the tiring "Chopping" process. To chop the extra wood sounded very easy, but it was not. The machete was very heavy, after several chopping, I found my hand becoming sore. We had to take breaks in between.
砍到這個程度時,我的手已經舉不起來了。湯匙背面是有一點形狀出來了,但把柄部份根本還沒開始動工呢!
I could not even lift up my hand at this point. The shape started to come out, but I had not even started the work of the handle yet!
湯匙的形狀出來後,再小刀一點一點去整修與順形。其實到這裡時,手已經有一點不停使喚了,所以雖然操的是小刀,但一樣感覺頗無力。
After the shape was formed, I used a smaller knife to trim. Actually my hand was not with me at that time. I could not even hold a smaller knife.
最後,再用銼刀與砂紙去磨平滑一點,就大工告成。不過,下課時我的湯匙還沒完成磨好,只好帶著砂紙回家繼續磨。自己動手做一支湯匙雖然很累人,但樂趣無窮呀!
Finally, I completed the whole process by smoothing the surface with the sandpaper. I still needed to do the extra smoothing at home. Although the whole process was tiring, it was very fun to make my own spoon!
Read More