[旮亙團員正在演奏傳統竹製樂器-竹鐘](Kakeng Musical Group is playing the traditional bamboo musical instrument- Bamboo Bell)
阿美族除了是能歌善舞的民族外,還擅長以自然材料製成樂器來演奏。據說,早期阿美族的傳統樂器約有三、四十種,但大多早已失傳了。Amis旮亙樂團花了數年時間透過耆老與舊文獻,重新製作出一件件傳統的竹木製樂器,重現消失許久的美妙樂聲。
The Amis aborigines love dancing and singing. They make their instruments from the natural environment. It said that there were at least 30 to 40 different kinds of traditional instruments in the tribe; however, they were lost. The Kakeng Musical Group spent years to re-make these bamboo musical instruments based on the old documentation.
[樂器竹砂鈴與竹鼓] (Bamboo rainstick and bamboo drum)
阿美族的傳統竹木製樂器與早期生活息息相關,如「竹鼓」為旱稻或小米成熟時用來驅趕飛禽,「鼻笛」是部落族人間傳遞訊號,而「竹鐘」的阿美族語即「旮亙( kakeng )」,是母系社會的阿美族為女兒招贅時報喜訊的工具。
These traditional musical instruments are used in the daily life, such as "Bamboo Drum" being used to deter the birds during harvest time. "Nose Pipes" is used to communicate among the people. "Bamboo Bell" is also known as "kakeng" in Amis language and used to announce good news during the son-in-law acceptance by bride's family.
[團員教民眾如何敲擊這些竹木製樂器](The group members are showing the audiences how to use these instruments.)
暑假期間Amis旮亙樂團在東管處的阿美族民俗中心,每天有二場的樂器演奏表演,因而有機會看到他們的表演。在表演正式開始前,遊客可以上台體驗這些竹木製樂器。
Amis Musical Group performs twice in the Amis Folk Center daily during summer time. I had this great chance to see their performance. Before the show starts, audiences can experience these instruments on the stage.
[用九芎木製作的木琴](Xylophone is made with Jioucyong Wood.)
Amis旮亙樂團的成員皆沒有受過專業的打擊訓練,且年紀相差很大,最小的僅五歲,最大的據說有八十歲了,參與演出的大多都是在學的青少年,他們是利用放學與假日的時間來進行團練的。
The members in the Kankeng Musical Group do not have any professional training. The group consists of different age members; the youngest is only 5 years old and the oldest around 80. However, the performers are usually students who practice after school or during holidays and weekends.
照片中打鼓的小妹妹,是這裡頭年紀中最小的一位,她有模有樣的打著鼓,相當可愛。
This cute little girl is playing the drum and she is the youngest in the group.
[團員用鼻笛表演馬蘭姑娘]("Malan Girl" is performed with the Nose Pipe.)
這些傳統的竹木製樂器,從原來的生活敲擊器具,演變成以表演音樂形式來呈現的樂器,可以說是將先人的傳統智慧用現代的方式來繼續傳承下去,真是一件值得鼓勵與欣喜的事!
These traditional musical instruments used to be the percussion tools in daily life. They have evolved to become musical instruments. The ancestor's wisdom has been passed on. It is such a delightful thing to do.
除了打擊樂演奏外,阿美族民俗中心還提供了竹砲、鞦韆及射箭等體驗活動,其中,竹砲在平時是用來嚇阻鳥獸以保護農作物的,而祭典時則用來向祖先報訊、驅趕惡靈及護佑部落用的。
Besides the percussion instrument performance, there are also Bamboo Cannon (Salifong), Swing (Tananoyan), and Archery (Mipana) activities. Bamboo Cannon is used to deter birds in order to protect crops. It is also used to report information to the ancestors, drive off evil spirits, and bless for the tribes during the ceremony.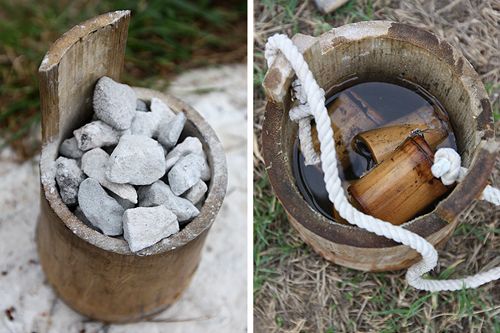 竹砲的原理是利用電石加水的化學反應,產生乙炔氣體充滿竹管內,再點火燃燒使其發出巨大的爆破聲。
The bamboo cannon fire was made by utilizing the chemical reaction created by adding water to the calcium carbide and producing acetylene gas in the bamboo tube, which was then lit by fire to make loud explosions
竹砲的聲響實在太驚人了,即便我已做好十足的心理準備,但每每還是被嚇的魂飛魄散,拍了好幾回才勉強拍到火花。
The noise was extremely loud. Although I had myself prepared for the loud noise, it still almost scared me to death. After shooting for many time, finally I got one that has the fire sparks.
[阿美族傳統家屋](Amis traditional housing)
[屋內一景](A view inside the house)
阿美族民俗中心佔地約二公頃,除了有眺望台及表演廣場外,還有數棟仿阿美族傳統建築的茅草竹屋,竹屋裡頭可清楚了解到阿美族傳統建築的格局及用途。若有機會到台東,不妨到這裡走走。
The Amis Folk Center is about 2 hectare large. Besides the View Platform and stage, there are also a several imitated Amis thatched bamboo houses. The Amis traditional architecture patterns can be observed in the house. It's worthwhile to visit here while you are in Taitung.
Read More