花蓮有數間全台少見的鋼管紅茶店,紅茶不僅「從天而降」,而且不加冰塊也能冰涼徹底。一走進這些傳統的鋼管紅茶店,就能見到從天花板垂直而降的數根鋼管。
A few rare Steel Pipe Black Tea shops still exist in Hualien. Black Tea is not only coming down from the ceiling, but also is cold without adding ice cubes. Once I entered the shop, I can see many steel pipes vertically hanging from the ceiling.
店家將煮好的紅茶與其他飲品存放在二樓,省去樓上樓下搬運的時間,直接透過鋼管傳送到一樓,水龍頭一打開,紅茶便源源不斷流出,一杯杯的送到客戶手中。
The cooked black tea and other beverages are made and stored on the second floor. To save time from going up and down stairs, the drinks are coming down through the pipes. Once the faucet is turned on, black tea is out and ready for the customers.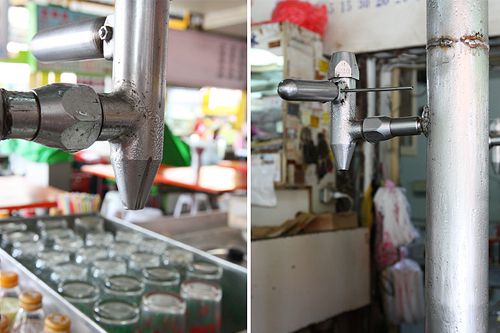 凝結著水珠的鋼管,分成內外兩層,內層為飲料輸送管,外層則為冷凝用的冰水管。利用不斷循環的冰水,冰鎮了管內的紅茶,因此不用加冰塊,也能喝到冰冰涼涼的紅茶,而且不用擔心冰塊稀釋了紅茶原本的味道。
There are 2 layers of the pipe which includes the internal layer for the beverage deliver tube and external layer for the ice water tube. Through the circling the cold water, the black tea in the internal tube stays cold. Without adding any ice, we can still drink cold black tea. We don't have to worry about if the flavor of the black tea would be diluted by adding the ice in it.
這些傳統的鋼管紅茶店,店內除了販售紅茶外,還有杏仁茶、青草茶、酸梅湯、花生湯及杏仁湯等冷飲與甜品,及台灣早期的各式西點。
Beside the black tea, the shop also offers almond tea, grass jelly tea, sour plum juice, peanut cold soup, almond cold soup, bakeries, and old time flavor western desserts.
現在的杏仁茶,大多都是店家直接買現成的杏仁粉來沖泡,但這些傳統的鋼管紅茶店,則是從剝杏仁、磨粉到熬煮,每一步驟都是老闆一手包辦,煮出來的杏仁茶自然香濃好喝。
Lot of almond tea now is made with the almond powder. However, the almond tea in the Steel Pipe Black Tea shop is made by peeling off almonds, grinding them to powder, and cooking them until they are ready. The owner prepares all these process himself. The almond tea is indeed excellent!
小西點表層薄酥、內層鬆軟,味道與Macaron相似,是台灣早期很普遍的西點。
This western dessert has a thin crispy outside and soft inside. The flavor is very similar to that of the Macaron. It was a very popular western dessert in the early years of Taiwan.
用透明的花紋玻璃杯呈裝的紅茶,看起來果真古早味十足。對我來說,紅茶好不好喝在於其次,能見到傳統保存冷飲的智慧,才是最珍貴的呀!
With the clear glass, the black tea looks very old fashion. To me, the taste of the black tea is not important; the wisdom of keeping the traditional cold beverages is most precious!
Read More