陽光初灑的晨間,在鳥語花香、靜謐清幽的鄉間騎單車,是件很舒服愜意的事,我們騎著民宿借來的單車,盡情享受這難得的鄉間早晨時光。
Biking in the early morning under the sprinkle of the sun and with birds singing and flower fragrance on the country road is quite pleasant. We borrowed the bikes from the family lodging and enjoyed this morning on the country site.
從民宿的三合院甫騎出,紅磚牆邊這綠的、紫的、紅的、黃的繽紛景象隨即映入眼簾,美麗豐富的色彩讓人驚喜不已。
We started from the courtyard. Vibrant colors with green, purple, red and yellow came into our eyes. We were astonished by these vivid colors on this side of red brick wall.
牆邊的另一邊,種了許多諾麗果,問了問路過的伯伯,才知這些諾麗果不是野生,而是刻意栽種的,據說諾麗果有排毒、消炎、降血壓與抗腫瘤等功效,故這幾年在台灣被炒得很火熱。
Lots of Noni fruits are growing on the other side of the brick wall. We asked an elderly on the road and found out that they are not the wild Noni, but were planted. It is said that Noni fruit has detoxifying, anti-inflammatory, antihypertensive and anti-tumor effects. Noni fruits are getting popular in Taiwan now.
拍夠了也欣賞夠了,正準備要正式展開單車之旅時,卻見民宿大哥的爸爸-黃伯伯前來,原來他是來看我們起床沒,提醒我們早晨的菁寮很美,要記得騎車去走走,鄉下人真的很熱情!
After the photos were taken, we were ready to take off. Mr. Huang (the father of the family lodging owner) came and reminded us not to miss the beautiful morning of Jingliao by bike. They were so warm!
菁寮大多都是傳統紅磚厝,而且處處綠意盎然、花木扶疏,蜿蜒騎乘在村落裡,邊吹風邊賞景真的是一大享受。
Most of the houses in Jingliao are red brick houses. Jingliao is filled with green trees and flowers. Riding within the village with the nice breeze is such an enjoyment.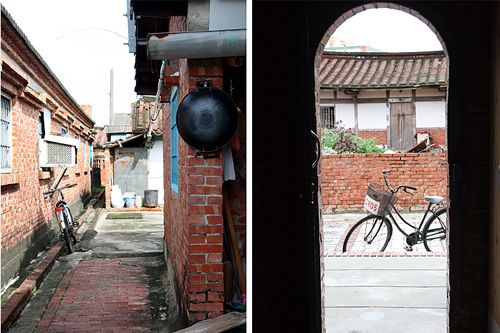 我們沒有目的地的隨意騎逛,村裡的紅磚厝、紅磚牆及紅磚巷,隨便一個角落都很迷人,可以說是處處都有驚喜。
We were riding around and found surprises on every corner of the red brick houses, walls, and alleys.
這間三合院是「茄芷阿嬤工作坊」,這間作坊不僅傳承了老一輩的藺草編織技術,還提供社區媽媽再就業的機會。不過,我這次只是經過,並沒有入內參觀。
Here is "Jiazhi Mamma's workshop" in the courtyard. It offers the Lin Grass waving technique to the women in the community. We were just passing by and did not visit inside.
「黃家古厝」是一棟中、西融合的建築,正面為仿文藝復興形式,後屋身則為閩南式建築。古厝建於1928年,是後壁鄉碩果僅存的日治時期的洋樓建築,不過目前並不開放參觀,只能透過圍牆窺探。
"Huang Old House" integrated the Chinese and western architecture. The imitation of the Renaissance style design is showing in the front and Taiwanese design in the back. It was built in 1928. It is the only remaining western house in Houbi Township left during the Japanese Colonial Era. It is not opened to the visitors yet. I could only peek through the wall.
這座矗立在稻田中央的「菁寮天主教聖十字架教堂」,是於1986年贏得普立茲建築獎得主-Gottfried Boehm的作品。很難相信,在這樣的鄉間竟然藏著大師級的作品!
"Jingliao Catholic Church" is located in the middle of the rice field. It was built by Gottfried Boehm who won the Pritzker Architecture Prize in 1986. It's hard to believe that an art work from a great architecture is hidden here.
參觀完教堂,別忘了到對面的菁寮國小走走。目前在國小裡尚可見到日式舊辦公廳與木造禮堂。照片裡淺藍色木造建築,為建於民國四十五年的舊辦公室,目前做為菁寮國小的圖書室。
After the church, we went to Jingliao Elementary School across the street. The Japanese style old office hall and wooden auditorium can still be seen. This blue old office building was built in 1956; it became the library of the school.
[建於民國四十年的中正堂]
Zhongzheng Hall- built in 1951.
蔶寮是個可以真實體驗「生活在鄉間的美好」的地方,有機會來到此,不妨消去時間的壓力,去吸納鄉間特有的悠閒,享受一段舒服的農村旅行吧!
Jingliao is such a nice place to experience the rural life. It helped to release the city stress, gain the leisure farm experience, and make the farm journey enjoyable!
Read More