位於兩個高地中間凹處的二崁聚落,是澎湖保存最完整的古厝群,也是國內第一個傳統聚落保存區。小小的聚落保存了二十幾棟的閩南式傳統古厝,這裡的房子都是當地居民就地取材,用硓(石古)石蓋成的,別有一番風味。 註:硓(石古)石就是珊瑚礁石
Located in the hollow place between two uplands, Erkan Clan is the most well preserved ancient houses, and also the first traditional settlement preservation in Taiwan. More than twenty Minnan traditional ancient houses have been preserved in this small clan. These houses were built with the local Lao (Shigu) Rock which is coral. They are very special.
二崁是「陳」姓的單姓聚落,房舍排列相當工整的。不知怎麼的,明明是古風古意的聚落,卻給我一種「很可愛」的印象。我想或許就是因為這裡的房子都矮矮的,才讓我有這種感覺吧!
Erkan is for "Chen" surname. The houses are well organized. I don't know why these ancient houses look very "cute" to me. I think that perhaps the fact they are very short made me feel this way!
這些保存下來的古厝,經過整修後,成了一間間小型的地方博物館,有常民生活館、傳統博物館、童玩館、褒歌館、漢藥紀念館等等。
These preserved ancient houses have been converted to a local museum group which consists of the "Museum of the traditional life", "Tradition Museum", "Museum of children's folk games", "Museum of Erkan Praise Songs" and "Museum of Herbal Medicine"…etc.
「我在曬太陽,請勿揑我!」,陶甕上寫著這麼一句話。到底是曬什麼呢?原來,這聞起來有艾草清香的東西,是當地人早期用來驅蚊的蚊香。
"I am sunbathing, please do not touch me!" this is written on the pottery. What is this for? It has grass fragrance, was the mosquito repellent which was used locally.
「二崁傳香」是用天人菊、艾香、山芙蓉的莖葉,曬乾後研磨成粉,再用手工搓揉成柱香,除了用來驅蚊外,還有鎮煞、避邪及安定神經的作用。在「褒歌館」裡,可以看到二崁傳香的製作過程。
註:數百年前從金門移民至此的二崁人,過去大多從事中藥材生意,所以在這裡可以看到不少其衍生運用出來的常民用品與飲食習慣,傳香外就是其中一個例子。
"Erkan Incense" is made with Gaillardia pulchella, Blumea aromatica and Hibiscus leaves. After they were dried, they were ground to powder and kneaded by hand into incense sticks. They are used as the mosquitoes repellent and have additional functions as dispelling the evil and calming the nerves. We can still see the production process in the "Museum of Erkan Praise Songs".
PS: The immigrants who moved from Jinmen to Erkan about a decade ago were all in Chinese medicine business; therefore, lots of daily supplies and food habits can still be seen.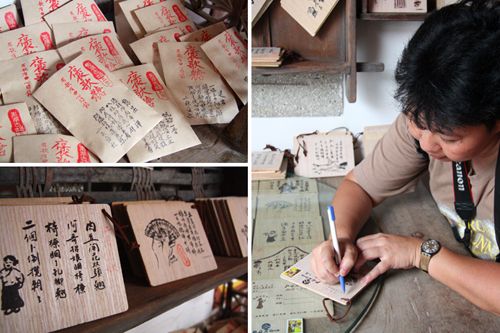 那褒歌又是什麼東西呢?褒歌是澎湖人用來傳唱生活周遭事物的即興創作。「褒歌館」裡可以買到褒歌糖、褒歌冊、褒歌扇及褒歌明信片等特色商品。
What is "Praise Songs"? It is how local people describe their living with creative songs. We can buy the Praise Song Candy, Praise Song booklet, Praise Song fan, and Praise Song postcard in the" Museum of Praise Songs".
我很喜歡用硓(石古)石築的圍牆
I really like these coral walls.
石臼、石椅、石井
Stone mortar, Stone Chair, Stone well.
在聚落裡走著走著,突然看到這間可愛的傳統雜貨店,台灣早期沒有超商,人們買東西都到雜貨店去。這間雜貨店裡頭的東西不多,有一個老婆婆坐在裡頭,不斷的向來客推薦放在矮桌上的該店「招牌商品」-土仁粿及金瓜粿。
Walking in the village, I encountered this very cute traditional grocery store. In the past, there were no supermarkets in Taiwan; grocery stores were the only places to shop. This store does not have too many supplies. An elderly lady was sitting inside and recommending her specialty items on the table-"Glutinous Rice with Peanuts and Glutinous Rice with Pumpkin".
土豆稞(上圖)是用麵粉、糯米粉及地瓜製作粿皮,裡頭再包上澎湖的特產花生製作而成的,吃起來香香甜甜,是幾百年傳承下來用來祭拜神明的傳統食物,也是澎湖相當具有特色的地方小點心。
Glutinous Rice with peanuts (photo above) is made with flour, sticky rice powder, sweet potato, and stuffed with the special local peanuts. It smells and tastes so good. It is the traditional worshipping items and also a special local delicacy.
內餡為竹筍、肉燥的金瓜粿(下圖)有四種口味,黃色為南瓜、紅色為懷山、紫色為紫色地瓜、綠色為海菜。金瓜粿的顏色十分鮮豔,但不用擔心,這些都是天然色素哦!
It stuffed with bamboo shoots, pork sauces (photo below), Glutinous Rice with Pumpkin has 4 different flavors. The yellow is the pumpkin, red the huaishan, purple the purple sweet potato, and green the seaweeds. These colors are so vivid. Don't worry. They are all natural food coloring!
二崁聚落可以介紹的東西很多,可惜的是,行前我對它一無所知,再加上時間有限,因此沒有深入細走。有機會,我還會想再回到這裡來,再挖掘一下澎湖人的故事。
A lot of things can be introduced in Erkan clan. However, it was a short trip so I did not spend more time locally. I will definitely tell you more stories about Penghu's when I visit here next time.
Read More